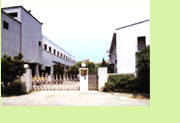 Preview......

The company was established in 1984. The full name of this company is Polymate Plastic Co., Ltd. and the location is at the countryside in Nan-tun Taichung. The area is only about 20 pings. The initial capital is three million and only 3 initial employees. By now, it has become a precise mold and plastic injection factory. To follow the development trend of future high-tech electrical industry in Taiwan, besides having a group of professional engineering technicians, we also adopt automatic equipment and precise inspection instrument to execute serious quality control. Our object is making excellent products and corresponding to the customer's needs.

Starting from Dec. 1998, under guidance and assistance of Plastic Industry Technology Development Center, we developed ISO-9002 total quality assurance system to involve the quality system in every operation fast and practically.

Established in 1984 in the countryside of Nan-Tun Taichung, the capital is 3 million; there were 3 employees; the factory area is 20 pings; the main products are electrical components and telecommunication equipment.
1992: moved to Taichung Industrial Park; the capital was 6 million; there were 7
employees; the area was 120 pings and l import automatic insert molding .
1993: invested in mold production.
1994: established mold factory occupying about 800 pings.
1995: bought the factory land ownership by 36 million; the capital was 24 million.
1996: totally computerized.
1997: with capital 53 million, established the Shang-Hai division factory in
Mainland China.
1998: total air-conditioning and centralized material feeding system.
1999: planning the Dong-Quan division and rising the capital to 90 million.
2000: Dong-Guan division started running.
Quality Policy......

Service The Highest · Sustainable Development
Quality Promise......

Make sure that all in the organization understand and execute the quality policy.
For the customer's product needs, carry out the education training, promote the professional knowledge and working quality, carry through "service the highest "object .
Carry out the system operation. So, if there is a operation mistake happening in individuals or execution units, they can get fast, appropriate correction and prevention information to make sure the quality stability of the products and to reach the enterprise sustainable development goal.
Organization Chart......